Meet Gareth Williams. Gareth joined WorldTeach Marshall Islands in July 2013, and is now completing his year of service, before hopping over to Micronesia to continue a second year teaching with WorldTeach. GoOverseas, an online source of program reviews for those seeking and researching meaningful travel abroad, interviewed Gareth about his time with WorldTeach in the Marshall Islands. Read the interview below, and check out our alumni reviews at GoOverseas. 
Why did you decide to teach with Worldteach in the Marshall Islands?
There were a few factors that really weighed heavily on choosing Worldteach and the RMI. I had wanted to get back into Teaching English as a Foreign Language for a long time since doing my post-grad in Education. I looked at a lot of different websites and came across Worldteach's website that offered a plethora of different programs. The Marshall Islands really snagged my interest for two reasons. Principally how remote, isolated and beautiful the country is and secondly that I could gain an internationally accepted TEFL certificate at the end of it. For me, it was two birds one stone, I'd gain a year's experience and become qualified. It was a really good move career-wise.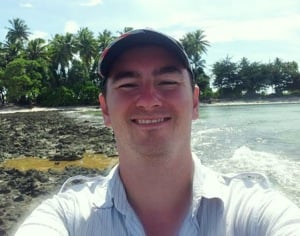 On a much more personal level though, I wanted to experience a far different culture than Britain. I wanted to go somewhere that represented the very fringes of Human civilization. A place where an indigenous culture had relatively recently encountered western culture. A sort-of melting pot of developing vs developed cultures. I chose to teach on Majuro (Marshall Islands), the capital Atoll, for that very reason. I'm very glad I did.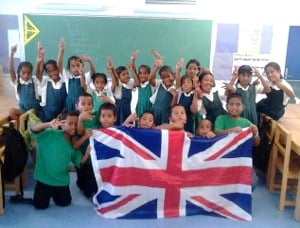 What made this teach abroad experience unique and special?
Wow. What a good question. Honestly, I'm not sure where to begin. I live with a host family, most volunteers do. However hesitant some people may be at the prospect of living with a host family, I have to say all things considered it's been one of the most rewarding parts of my experience living here. I have wonderful host parents, who definitely consider me a second son.
I have made some fantastic friends here in the RMI, mainly volunteers who come from as far as America, Australia and South Africa who through this have bonded and become quite close. I've become really close friends with an Australian, Jacqueline Merrey and a Texan, Nathan Tweedy. This would never have happened had I not been here.
I've seen the most incredible things here too, such as seeing a pod of dolphins swimming in their natural habitat. Swimming with angel fish and other tropical fish in the lagoon. Being surrounded by a school of thousands of sardines as I snorkeled. Just exploring here is an incredible experience, and something that Majuro volunteers have more than any other is our opportunity to explore different parts of the Marshall Islands, like Arno Atoll or different areas of Majuro Atoll that other outer island volunteers don't normally have.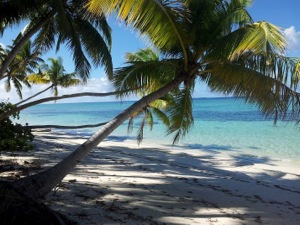 Having access to enjoy different things like Kayaking or sailing on a yacht is a great experience too. Running for charitable events or to raise awareness for different Marshallese causes is great, I feel like there's something happening all the time, but there's plenty of opportunity for seclusion and time to yourself too.
My kids at school can be a challenge. I teach third grade at Rairok Elementary School. Up until recently I was teaching three grade 3 classes for 90 minutes without breaks with 35 students per class. Now that can be difficult! But for the most part, I've found teaching here to be rewarding, especially if you're creative in your approaches to teaching. A few of my kids I will miss in particular.
One other incredible experience was meeting and staying with Jose Salvador Alvarenga , the El Salvadorian castaway that was lost at sea for 18 months who washed up on the shore of Ebon Atoll a few months ago. He was taken to Majuro, where Worldteach; who is such an integral and important part of the Ministry of Education, was invited to help him as we had a volunteer and good friend, Sean Cox who spoke fluent Spanish. It was an amazing and surreal experience to be in the presence of a man who had gone through so much and who now had so much to look forward to. It was a beautiful and exciting experience.
Worldteach also runs Deaf Worldteach too, which sound like separate things but we're all good friends. They have taught me so much ASL and I've learned much about deaf culture in general. They do a superb job providing education to children who would otherwise have no deaf-education provision. I've actually used ASL as a visual aid in my classes to help my student memorise vocabulary, which has worked incredibly well. Diversity is a great thing.
One last thing that can't be overlooked is my field director, Todd Mulroy. Who does an exceptional job as field director for WT:RMI. I personally feel like I can depend on him for pretty much anything I need to be happy here. He also has a great rapport with his volunteers, which goes a long way in anyone's experience in a volunteer program I'd say. We've all shared so many jokes and laughs, that I feel at times he's part of our volunteer group. He also makes sure that all our volunteers feel safe, everything from beacons to lifejackets for travel on water.
How has this experience impacted your future?
The question really should be in what ways hasn't it impacted my future. Generally speaking I feel richer as an individual for doing this. I recognise in myself a fundamental shift in character brought on by incremental changes from external influences, almost all of them very positive. I feel more fortunate to have grown up in a developed country, I feel immensely wise for being educated well and for free, I feel healthy for having lived in a country rich in a diverse variety of food and the provision of universal healthcare.
Out of these comparisons though, comes a sincere desire to help those who are less fortunate and to help give back to the world that has given me everything. This is why I want to continue to make a difference and to continue to teach. Worldteach has facilitated this for me, and provided me a platform that I can touch the world.
What is one piece of advice you would offer someone considering teaching abroad in the Marshall Islands?
Discipline, Discipline, Discipline. Yes, I hate the word too. It's something I don't enjoy, but you simply have to become a bit of a disciplinarian with kids here. I can't emphasis that enough: Discipline. I was forewarned with stories from other volunteers in previous years about how much would be required, but I had no idea how true it was until I started teaching.
Some of my kids are great, but most have to be given firm boundaries all the time. It can be a bit exhausting and overwhelming at times. The trick really is to just keep reinforcing expected behaviour. Make your classroom your classroom. They will get it eventually.
Also, you'll be expected to teach grade 3 curriculum at grade 3, which in practice doesn't really work in my opinion, because I've observed most of my students comprehension of English is well below what the current grade curriculum dictates. Be prepared for massive differentiation in your classes. You will have kids who can't spell "When" mixed with kids who know and understand continuous past tense.
Be open, be flexible, be understanding. Eventually you'll find your footing and do well. Your attitude at the beginning of the day will definitely dictate how you perceive the rest of it.
For all those faults, I don't ever regret coming here. It's been an incredible life changing experience and I urge you to experience it for yourself.
If you are interested in learning more about WorldTeach, check out our website at www.worldteach.org. If you have additional questions, feel free to email us at info@worldteach.org or call us at 857.259.6646!